(MENAFN – UkrinForm) From 08:00 on February 14, at the entrance to the building of the Pivdennyi (Southern) railway station, departing and arriving passengers and residents of Kyiv in a hurry to take the metro, are greeted with Valentine's Day postcards from modern Ukrainian artist and architectural designer Olga Kondratska. The postcards feature a reproduction of one of her works, wishes of love, and an autograph.
The venue is the sculptural composition "Heart" created by the artist, which was installed earlier this year. The art object, made of alloy steel, has impressive dimensions (5.25 meters long, 3.45 meters high and 1.5 meters wide) and combines 3,093 hearts, the largest of which is in the middle.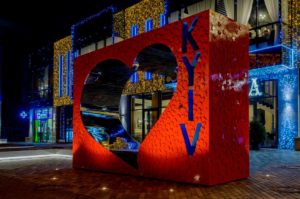 With her campaign on St. Valentine's Day, just as with the installation of the sculptural composition, the artist once again wants to portray Kyiv as a city that always welcomes guests and makes the people of Kyiv happy. First and foremost, this applies to the railway station that should not remain only fussy and gray in the eyes of passengers.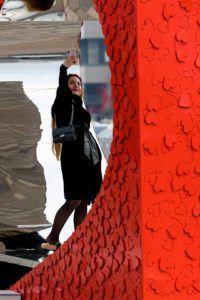 According to the designer, the "Heart" of Kyiv is always open, because you can go inside the composition, and is ready to transfer part of its love, share its scarlet light day and night, when the sculpture is illuminated with a special filter from Belgian factory DeltaLight.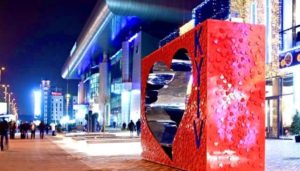 Olga Kondratska says she plans to hold various campaigns around her sculptural composition in the future, in particular, on Kyiv Day, each time recalling the love of an ancient European city to its guests and residents of Kyiv.
https://menafn.com/1099703176/Ukrainian-artist-holds-campaign-on-Valentines-Day-near-railway-station-in-Kyiv